After a couple of interviews with the main people involved in this documentary, today I'd like to take you on a little trip, to discover the differences between Bali and Neuchâtel (where Ariane is from), as well as what they have in common.
But before that, I might as well introduce myself, as you may be reading me quite a bit if you follow the project closely.I'm Joey. I'm the first assistant director, but I'm also in charge of the blog, the media, translations and lame puns.
BY THE NUMBERS
Located almost exactly 12,000 kilometers apart, Neuchatel and Bali are, to say the least, quite different. With an area of ​​5780 square kilometers, the Indonesian island is about 7 times larger than the Canton of Neuchâtel.
Population-wise however, the factor is much larger than 7 … 4.2 million people on one side and fewer than 200'000 on the other: basically, it's as if half of Switzerland lived in the canton of Bern, except that you don't hear quite as much Swiss-German on Balinese beaches as in the Taubenloch Gorge.
The capital of Neuchâtel is Neuchâtel, whereas Bali's is Denpasar, a city more than half the size of ​​the Canton of Neuchâtel, with four times its population. In short, Bali is bigger, there are more people and as an added bonus, there's a little less fog in November!
THE DECOR
While both Bali and Neuchâtel are picturesque destinations, the photos one brings back from one or the other are obviously not quite the same. Palm trees, rice fields and pristine beaches on one side, forests, mountains and… stony beaches on the other. I'll let you guess which is which!

THE CHOCOLATE CONNECTION
But despite all their differences, Bali and Neuchâtel do have one thing in common: chocolate. Everyone – except perhaps the Belgians – agrees, Switzerland, and more precisely Neuchâtel (if you ask the Neuchâtelois) is where the best chocolate in the world is made. Obviously, the cocoa used does not grow here in Switzerland. To find that, you have to to the Ivory Coast, Ghana or… Bali. Yup, Indonesia is the wold's third largest cocoa producer i!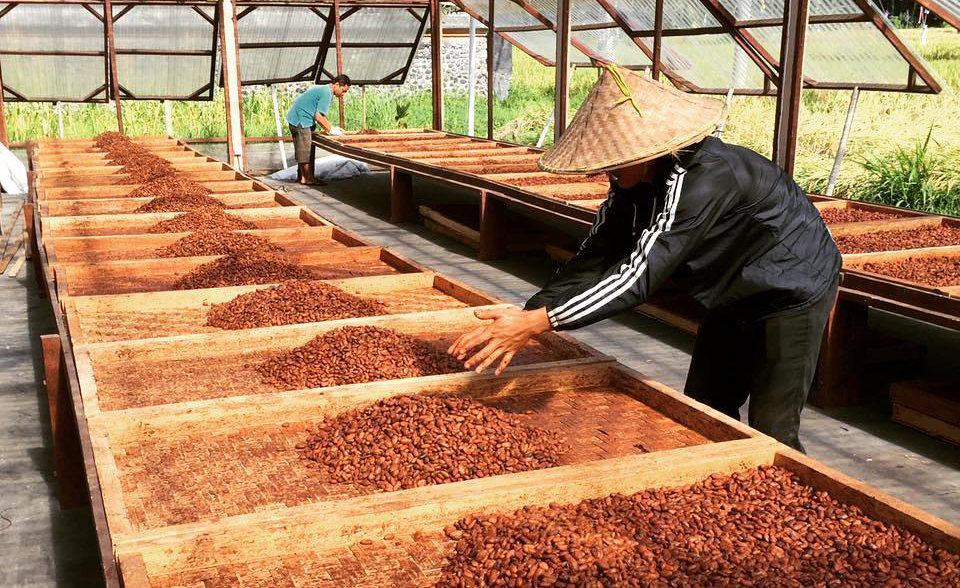 I KNOW WHAT YOU'RE UP TO
If you've been reading this blog from the get-go, you know that Ariane eats chocolate every single day… So, I'm thinking that it's not actually the athletic side of the Bali Hope Ultra Marathon that is making her go half-way across the world, but rather the sweet smell of her favorite raw material.
If you spoke French, you'd have gotten one of my lame puns right about now.
Anyway that's it, I'm off for an 84 kilometer run to eat some chocolate. I'll be back next week to chat with Marc Lauenstein: vice-champion of the world in trail running, dentist, and also sponsor of this project. Not sure we'll talking about chocolate…